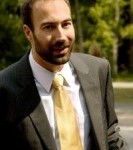 Ryan Calo is Assistant Professor of Law at the University of Washington School of Law. Professor Calo researches the intersection of law and emerging technology, with an emphasis on robotics and the Internet. His work on drones, driverless cars, privacy, and other topics has appeared in law reviews and major news outlets, including the New York Times, the Wall Street Journal, and NPR. Professor Calo has also testified before the full Judiciary Committee of the United States Senate. 
Professor Calo serves on numerous advisory boards, including the Electronic Privacy Information Center (EPIC), the Electronic Frontier Foundation (EFF), the Future of Privacy Forum, and National Robotics Week. Professor Calo co-chairs the Robotics and Artificial Intelligence committee of the American Bar Association and is a member of the Executive Committee of the American Association of Law Schools (AALS) Section on Internet and Computer Law.
Professor Calo previously served as a director at the Stanford Law School Center for Internet and Society (CIS) where he remains an Affiliate Scholar. He also worked as an associate in the Washington, D.C. office of Covington & Burling LLP and clerked for the Honorable R. Guy Cole on the U.S. Court of Appeals for the Sixth Circuit. Prior to law school at the University of Michigan, Professor Calo investigated allegations of police misconduct in New York City.