Author Archive | Michael Froomkin
hacked by GHoST61 bize her yer TRABZON :*
hacked by GHoST61 - bize her yer TRABZON :*
Remember, the official deadline for paper proposals for We Robot 2014 is tomorrow – Nov. 4, 2013.
We'll count anything in by midnight US east coast time as having made it in by deadline.
Visit the We Robot 2014 web page for more information.

Stanford Law School hosted the 2013 We Robot Conference.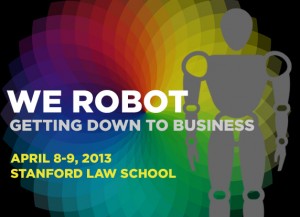 Full videos of We Robot 2012 are now available in the 2012 Video Archive. We intend to have podcast-ready audio-only versions soon.
Podcast-ready MP3s are also available in the same archive.
Videos of We Robot 2012 should be ready and uploaded in about a week. Check back for further information.
Meanwhile, here are some mini-videos shot by the UM Law staff during the conference.
Shortcuts to important We Robot 2012 conference information:
We are covering a lot of ground at We Robot 2012. But the potential topics of exploration are even broader. We invite participants to propose and sign up to attend Saturday evening "birds of a feather" (BoF) sessions over dinner. Want to talk drones and privacy? Driverless cars? Something else entirely? Propose a session in comments to this entry. We'll also have signup sheets at the conference on Saturday.
Here are some suggested restaurants in Coconut Grove (near the main conference hotel) at which you could plan to meet. Conference staff will be available to help with reservations once we have some idea of the level of interest.
The proposals for We Robot 2012 exceeded all our expectations in both number and quality, which has allowed us to put together a very exciting event. Registration is now open.
In order to accommodate more presenters we've made some small alterations to the format: In addition to the planned presentations we've grouped sets of papers that seemed to have common themes into two panels: Social issues in Robotics, and Military Robots. Here's the tentative schedule [UPDATE–Please note that amendments to the schedule are not reflected in this post; for the latest schedule information please see the actual Program]:
We Robot 2012: Setting the Agenda
April 21–22, 2012
University of Miami School of Law
Saturday, April 21st
8:00am
Registration and Breakfast
8:30am
Welcome
Vice Dean Patrick O. Gudridge, University of Miami School of Law
8:35am
Introductory Remarks
A. Michael Froomkin, Program Chair
8:45am
How Should The Law Think About Robots?
Neil Richards & William Smart
Discussant: Annemarie Bridy
10:00am
Break
10:15am
Liquid Robotics
Suneil Thomas
11:30am
Break
11:45am
Confronting Automated Law Enforcement
Lisa Shay, Gregory Conti, Woodrow Hartzog, John Nelson & Dominic Larkin
Discussant: Mary Anne Franks
1:00pm
Lunch
2:00pm
Regulation of Liability For Risks of Physical Injury From "Sophisticated Robots"
F. Patrick Hubbard
Discussant: Samir Chopra
3:15pm
Break
3:30pm
Panel Presentation: Social Issues in Robotics
Moderator: Ryan Calo
Extending Legal Rights to Robots Based on Anthromorphism, Kate Darling
Sex Robots and Roboticization of Consent, Sinziana Gutiu
We Robot: Setting Up The Legal And Social Framework for "Robocalisation", Olivier Lecomte & Francois Xavier Albouy
Liar Liar Pants on Fire! Examining the Constitutionality of Enhanced Robo-Interrogation, Kristen Thomasen
5:00pm
Reception
To be held in Student Lounge & Courtyard
6:00pm
End of First Day
Sunday, April 22nd
8:00am
Registration and Breakfast
8:30am
Machine Agency
Josh Storrs Hall
Discussant: Peter Asaro
9:45am
Break
10:00am
Micro Aerial Vehicles: Opportunity Or Liability
Amir Rahmani
11:15am
Break
11:30am
Delegation, Relinquishment and Responsibility: The Prospect of Robot Experts
Ian Kerr & Jason Millar
Discussant: A. Michael Froomkin
12:45pm
Lunch 
Lunch-time break-out: The Future of We Robot
A. Michael Froomkin & Committee of the Whole
1:45pm
Work-in-Progress Presentation: Open Roboethics: Establishing an Online Community for Accelerated Policy and Design Change
Ajung Moon, Ergun Calisgan, Fiorella Operto, Gianmarco Veruggio & H.F. Machiel Van der Loos
3:00pmm
Break
3:15pm
Panel Presentation: Military Robotics
Moderator: Bernard H. Oxman
When Machines Kill: Criminal Responsibility for International Crimes Committed by Lethal Autonomous Robots, Oren Gross
Asleep at the Switch? How Mechanical Mercenaries Might Re-Program International Humanitarian Legal Norms, Ian Kerr & Katie Szilagyi
The Intersection: The Rules of War and The Use of Unarmed, Remotely Operated, and Autonomous Robotics Systems Platform and Weapons… Some Cautions, Richard O'Meara
The Dehumanization of International Humanitarian Law: Independently Operating Weapon System and Modern Armed Conflict, Markus Wagner
4:45
Final Remarks
ABOUT WE ROBOT
Robotics seems increasingly likely to become a transformative technology. This conference will build on existing scholarship exploring the role of robotics to examine how the increasing sophistication of robots and their widespread deployment everywhere from the home, to hospitals, to public spaces, and even to the battlefield disrupts existing legal regimes or requires rethinking of various policy issues.
If you are on the front lines of robot theory, design, or development, we hope to see you and to enable conversations between the people designing, building, and deploying robots, and the people who design or influence the legal and social structures in which robots will operate.
CONTACT WE ROBOT
E-mail
robots@law.miami.edu
Tel. +1 (305) 284-6276
Fax +1 (305) 284-6506
Postal Mail
We Robot 2012
c/o A. Michael Froomkin, Program Chair
University of Miami School of Law
PO Box 248087
Coral Gables, FL 33124-8087
USA
FedEx/DHL/UPS/Other Courier
We Robot 2012
University of Miami School of Law, Rm G-382
1311 Miller Drive
Coral Gables, FL 33146
USA
Social Media
Twitter: #WeRobot
Facebook: https://www.facebook.com/pages/We-Robot/315848441798763
ABOUT MIAMI LAW and CORAL GABLES, FL